It's that time of year when we all get a chance to show our appreciation for those in our lives! This is especially important for our team members, bosses, partners and marketing peers. But with all the craziness of the holidays — and if you're anything like me — you're probably scrambling to find the perfect last-minute gift for your work fam.
There's still time to get the marketer in your life something special that will help ease their work lives in the New Year. Whether they're looking to educate themselves on current industry trends, or just want to up-the-ante on their social media video game in 2020, there's a gift in our first-ever Holiday Gift Guide for every marketing pro.
Check it out for some inspiration!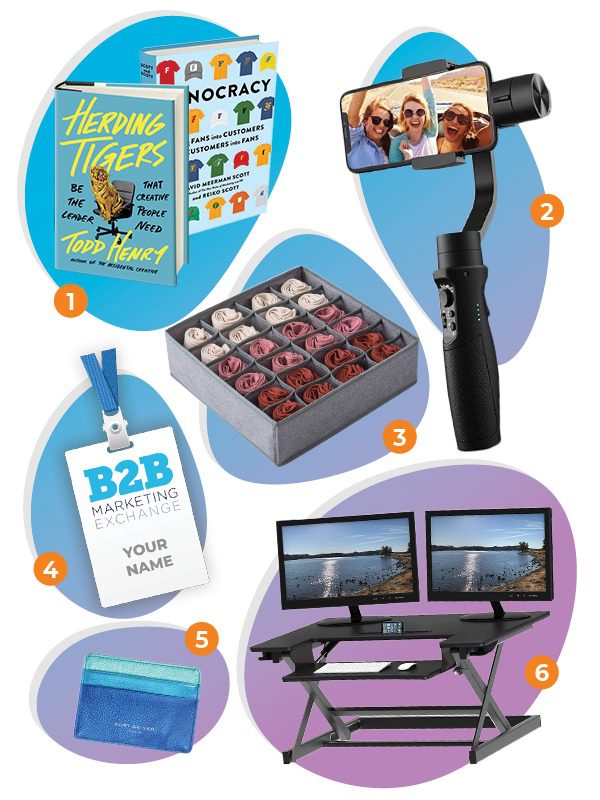 1. The Latest Industry Reads
You've probably noticed industry influencers posting social media selfie videos on LinkedIn a lot this year. Why not get your marketing friend on board and help them deliver great short-form content with a stabilizer for their iPhone?
Socks have become the ultimate swag at tradeshows. Your marketing peers probably have their fair share of foot decor from their favorite solution providers. A sock organizer will help them keep track of 'em all.
4. Tickets To #B2BMX 2020
#B2BMX is the gift that will keep on giving throughout the entire year. Give your friends and colleagues three days of education, networking and fun in Scottsdale, Ariz. by gifting them tickets to #B2BMX 2020. Register now using the code UNWRAP and knock $500 off your ticket!
If networking is their game, a colorful business card holder is a must.
Sitting at a desk all day while creating killer campaigns can really put some strain on a marketer's body. Help keep them comfortable in the New Year by gifting them a standing desk to help with blood flow throughout the workday.