[vc_row][vc_column][vc_column_text disable_pattern="false"]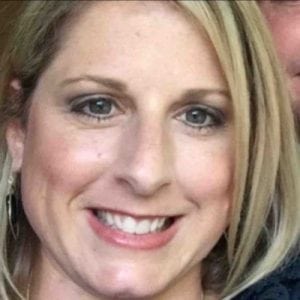 This blog often focuses on the people behind the outstanding work we celebrate at the B2B Marketing Exchange.  Throughout the year, our Marketer Spotlights showcase #BestInB2B content and feature outstanding campaigns to offer a real look at the professionals behind the process.   
But with today's spotlight we want to look beyond the campaigns, beyond conversion rates, and highlight one of the most well respected marketers in the B2B sector, Kristen Wendel Recker.   
Many in our B2B marketing community know Kristen. She has been a long-time subscriber to Demand Gen Report and has spoken on sessions during some of our webinar series. Kristen is also a #SiriusDecisions ABM program of the year winner, #FlipMyFunnel ABMie award winner, and one of the Top 50 Women to Know in Revenue from Engagio. Kristen's colleagues at LeanKit describe her as "fiercely loyal, competitive, strong, and a natural leader." But today, she can use our help.     
Kristen was recently diagnosed with pancreatic cancer. To help ease the financial burden medical bills are placing on Kristen and her family, Danielle Porter Condon has created: Friends Fighting with Kristen Wendel Recker.  This fundraiser has been supported and shared by Kate O'Neil Moore, Matt Amundson and many other caring B2B professionals. Knowing all too well the devastating effects that such an illness can have on patients and their family, today we kindly ask that you stand with us in supporting Kristen's battle.
Here's how you can help:
[/vc_column_text][vc_row_inner][vc_column_inner width="1/4″ css=".vc_custom_1513813939543{margin-top: 0px !important;margin-right: 0px !important;margin-bottom: 0px !important;margin-left: 0px !important;border-top-width: 0px !important;border-right-width: 0px !important;border-bottom-width: 0px !important;border-left-width: 0px !important;padding-top: 0px !important;padding-bottom: 0px !important;padding-left: 0px !important;}"][mpc_button preset="preset_0″ block="true" url="url:https%3A%2F%2Fwww.youcaring.com%2Fkristenwendelrecker-1017923||target:%20_blank|" font_preset="mpc_preset_15″ font_color="#ffffff" font_size="24″ font_align="center" title="Donate" icon="fa fa-thumbs-o-up" icon_color="#ffffff" icon_size="24″ icon_effect="stay-left" icon_gap="8″ background_color="#f36146″ border_css="border-width:0px;border-radius:8px;" padding_divider="true" padding_css="padding-top:15px;padding-right:10px;padding-bottom:15px;padding-left:10px;" hover_background_color="#f29180″ hover_border_css="border-radius:8px;"][/vc_column_inner][vc_column_inner width="1/4″ css=".vc_custom_1513813932597{margin-top: 0px !important;margin-right: 0px !important;margin-bottom: 0px !important;margin-left: 0px !important;border-top-width: 0px !important;border-right-width: 0px !important;border-bottom-width: 0px !important;border-left-width: 0px !important;padding-top: 0px !important;padding-right: 0px !important;padding-bottom: 0px !important;}"][mpc_button preset="preset_0″ block="true" url="url:https%3A%2F%2Fctt.ec%2F5He1D||target:%20_blank|" font_preset="mpc_preset_15″ font_color="#ffffff" font_size="24″ font_align="center" title="Tweet" icon="fa fa-twitter" icon_color="#ffffff" icon_size="24″ icon_effect="stay-left" icon_gap="8″ background_color="#30a0ee" border_css="border-width:0px;border-radius:8px;" padding_divider="true" padding_css="padding-top:15px;padding-right:10px;padding-bottom:15px;padding-left:10px;" hover_background_color="#7bbded" hover_border_css="border-radius:8px;"][/vc_column_inner][vc_column_inner width="1/4″][/vc_column_inner][vc_column_inner width="1/4″][/vc_column_inner][/vc_row_inner][/vc_column][/vc_row]