Driving measurable ROI with any campaign requires a firm understanding of objectives, KPIs and what buyers need to move the conversation forward. With multichannel campaigns, this only becomes more complex.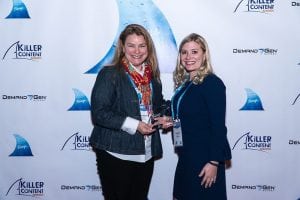 This week, I had the pleasure of speaking with Theresa Freas, Senior Director of Portfolio Marketing, Banking and Lending at Equifax, about the multichannel campaign that won them a Killer Content Award this year for driving measurable ROI. Many factors came in to play when Freas and her team formulated the campaign, but she highlighted five drivers that helped push the campaign to exceed all expectations.
Below are those five drivers, along with quotes from Freas during the Q&A highlighting how it all impacted the success of Equifax's campaign:
1) A Mindset Shift Towards Thought Leadership And Brand Awareness
"Our company didn't do a lot of these external webinars, so it was really a mindset shift to venture into the webinar front. It involved working with our sales team to encourage them to get their customers involved and working across many parts of the marketing team in general to understand the goals for the content and campaigns."
2) Working Across Departments To Understand Audiences For Each Vertical
"It wasn't just focusing on the industry or vertical — banking and lending — but this information was good for mortgage lenders, automotive lenders and even telecom and government. So, working across our different teams to understand who our target audience was for each of those verticals was helpful. And we pulled together as a broader team to identify those thought leaders and reach out to them, or the decision makers at target accounts, to attend the webinars."
3) Going Beyond Traditional Channels
"It wasn't just focusing only on email campaigns but looking at our digital footprint. How could we promote this via our website or through paid and organic social? So, we really turned over all the rocks to see where we could promote this content. It was really a mindset change; we tried some new and different things."
4) Reporting On The Backend To Prove Success
"With this being more about awareness, it's challenging to tie ROI to it. So, we were working to get anecdotal evidence of what's been successful. That included looking at not just registrations and attendance, but also gathering our sales team's perspective on how this content has helped move the dial on the products that underscore this thought leadership."
5) The Excitement Of Trying Something New
"We put a date on the calendar and started working backwards from there — saying that we won't let anything get in our way. Trying new things all the time. We actually had a customer on the fence for a year, and the first webinar that customer attended, they signed the contract."
Want to hear Equifax's full story? Check out the on-demand version of the Q&A with Theresa Freas of Equifax below!