At this year's B2B Marketing Exchange, the folks at Kingman Ink and Quarry partnered to bring our attendees unique artwork highlighting notable quotes presented by industry experts. These tweetable and succinct videos allowed the messages presented at #B2BMX to take on new life. 
Here are a few of our favorite #KeynoteInks from this year's event: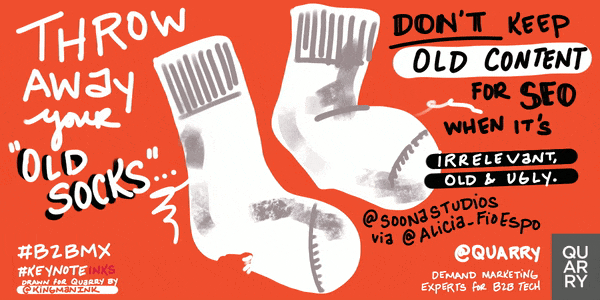 We're all guilty of holding on to things for too long sometimes, in both our personal and professional lives. While repurposing existing content is an important practice, most content will eventually reach its expiration date. It may be tempting to keep old and outdated content up in your library — after all, you spent loads of time developing it — but do you really want prospects being exposed to expired messaging? As Elizabeth Giorgi, Co-Founder and CEO at soona, shared, it's time to rip off the band aid and get rid of content that is no longer relevant … much like your old socks.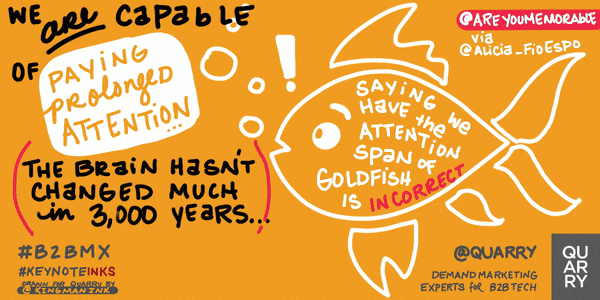 Give your prospects a little credit. There's a common fallacy in the B2B community that buyers have the attention span of a goldfish – roughly eight seconds. But as Carmen Simon of Corporate Visions / MEMZY said during her session, we are capable of paying attention for longer … you just need to create content that's interesting enough for them to want to.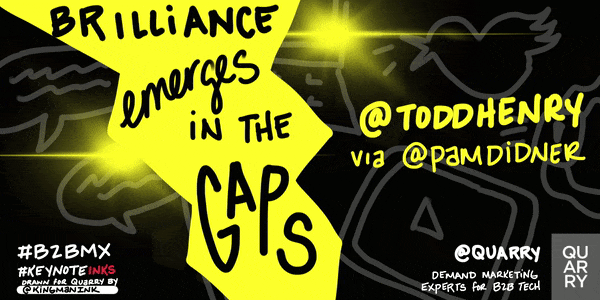 Tell a room of marketers they need to put their phone down and it's likely you'll get laughed out of the room or a tomato thrown at you. But as author Todd Henry shared during his electric keynote address, the moments in which we're disconnected are those that provide us with the most inspiration. Step away from the screen and let the inspiration come to you.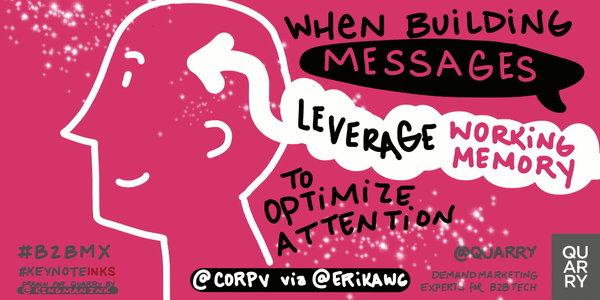 You know how a smell or taste can uncover a childhood memory in an instant? It's a warm and nostalgic feeling, one that is hard for marketers to invoke. During her session, Carmen Simon of Corporate Visions/MEMZY suggested marketers focus on building messages that leverage working memory to try to make that connection.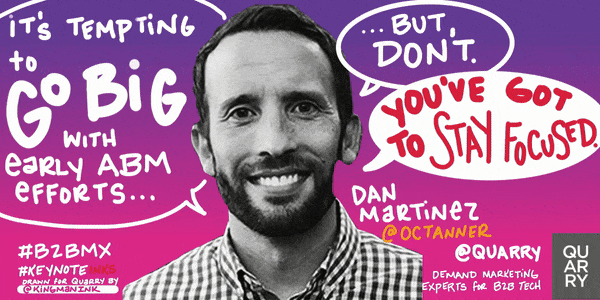 Dan Martinez of O.C. Tanner offered some sage advice for marketers looking to rev up their ABM strategy: stay focused. There's a world of possibilities in ABM, and it's exciting. But it's important not to get too carried away too quickly. You must build a sturdy foundation first. It's okay to dream big — just make sure you have the building blocks to support it. 
Want to see the rest of the #KeynoteInks inks? Check them out here!