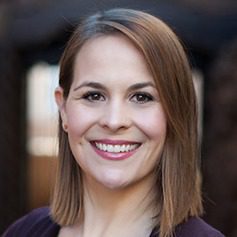 Anna is a content expert who tackles her clients' toughest marketing problems with the tenacity and fearlessness of a honey badger. In case you were wondering, her last name is pronounced "her-ROCK."
Anna is an ad agency veteran, and for more than a decade she's been developing super-smart content strategies for companies ranging from up-and-coming startups to Fortune 500s. Her experience includes pretty much any industry you can think of, plus some of the world's biggest brands, including Farmers Insurance, Nike, Culligan International, Best Western and philosophy skin care and cosmetics.
Today, she's with Convince & Convert, a digital marketing strategy consultancy headed up by New York Times best-selling author and world-renowned speaker Jay Baer.
When she's not dotting the i's and crossing her t's, you'll find Anna strapping on her skates and taking the track for the Arizona Derby Dames as her ruthless roller derby alter ego, Lady MacDeath.